---
Services
---
Powder Coating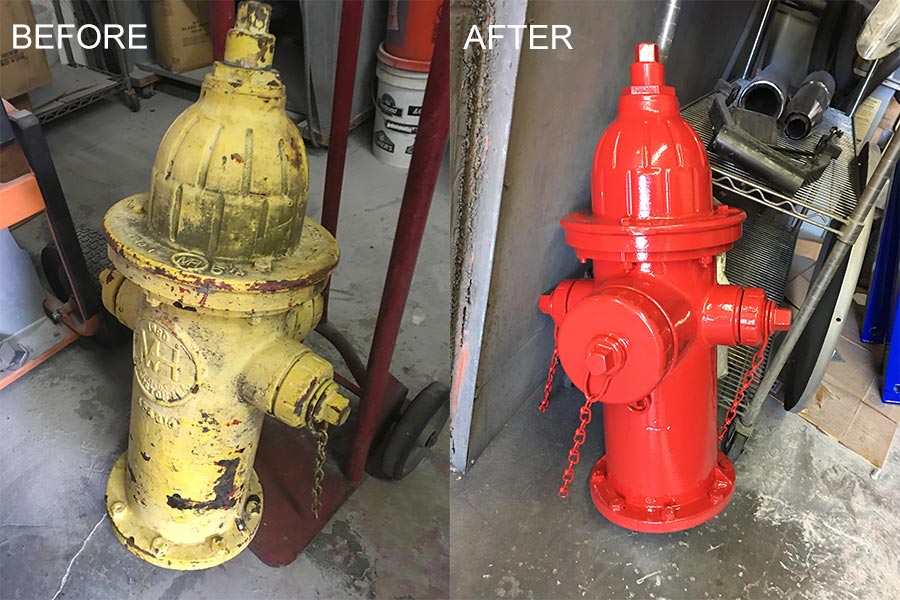 The foundation which Powder Kote Plus was built on, powder coating is our specialty focus and emphasis service. With 20 years of experience through three generations, we have carved out our niche in the powder coating field. Bicycle frames, Car and truck wheels, motorcycle frames, new and rusty old parts, anything metal is a perfect candidate to be restored to glory through the wonderful and popular powder coating process. Our attention to detail, preparation, degreasing, and cleaning of your parts will show in the finished product. Every part is sandblasted and thoroughly inspected before coating to ensure your parts are treated as our own.
---
Ceramic Coating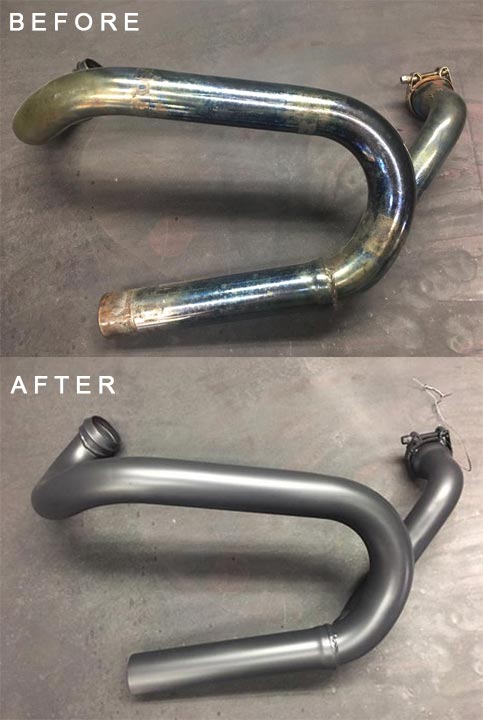 Ceramic coating is a liquid paint sprayed-on finish for high-temperature exhaust and header systems of all kinds and styles. We use Cerakote ceramic coatings state-of-the-art technology to out-perform any competitive coating in both laboratory settings and real world applications. Powder Kote Plus has been a local leader in the ceramic coating industry. Ideal parts for ceramic coating are exhaust headers, exhaust pipes, exhaust heat shields, cast manifolds, turbo charged exhaust systems, and many other applications. We have ceramic coated anything from manifolds of vintage tractors, to 4 into 1 exhaust headers of dirt late-model race cars. This ceramic finish is available in a flat black, or tungsten dark grey finish in stock at Powder Kote Plus. Other colors including silvers will be available in the near future.
---
Sand Blasting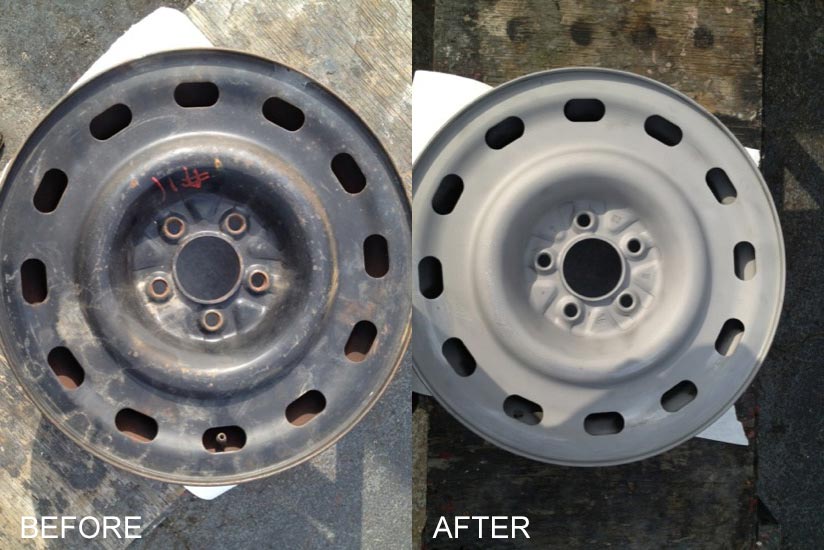 A very important step to prime a surface for powder coating, ceramic coating, and paint work. Every metal part is sand blasted at Powder Kote Plus before the powder coating or ceramic coating process. No exceptions. Sand blasting will thoroughly remove paint, rust, corrosion, dirt, old powder coat, or any foreign substance in an effort to get down to the bare metal. It opens the pores of the metal which is a primed surfaced for powder coat, paint, and ceramic applications.
---
Motorcycle Tires and Other Parts
We are known in the local area for being a leader in motorcycle tire sales and installs for any make and model motorcycle. From Harleys, Metric Cruisers, Crotch Rockets, Scooter, and all other types of bikes Powder Kote Plus will accommodate you! Several options are available including purchasing the tire outright, bringing in your wheel off the motorcycle where we can mount and balance your tire purchased at Powder Kote Plus. Tires purchased at Powder Kote Plus are subject to free mount and balance on the wheel. Online vendors do not have a physical place to mount and balance your tire. We are the local preferred installer for motorcyclesuperstore.com. We also offer drop your bike for a tire install, which typically takes one to two hours. This includes a charge of labor and we will be glad to install your tire on your motorcycle purchased at Powder Kote Plus of any make or model.
---